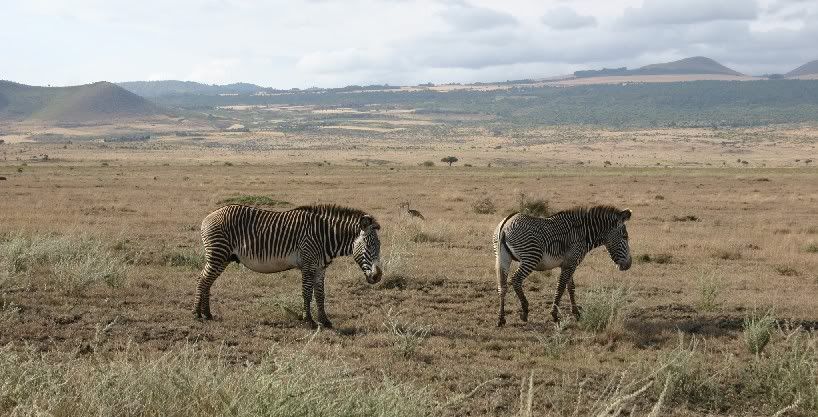 We had an excellent Easter weekend at Lewa wildlife conservancy and it was to my enormous relief and my husbands scarcely disguised chagrin (he loves his car), that we parted with our own vehicles for three days and handed ourselves over to the more than capable and extremely knowledgeable Lewa wildlife guides who double as open sided, long wheel base Landcruiser drivers.
It had been the usual white knuckle drive out of Nairobi via Thika that morning, in convoy with my (would have loved to have been a rally driver) husband in front repeatedly calling me on my mobile phone to ask why I am driving so slowly. We had the expected quota of ancient, un road worthy lorries lumbering along in the fast lane, but persistently indicating to the left, thus forcing other motorists to take their life in their hands and undertake whilst muttering Hail Mary's and hoping that the sixteen wheeler in question is not about swipe you into the verge. There were a couple of dodgy moments when I hit some deep potholes, or a matatu (public mini bus) pulled out just in front of us and my mum grasped the door handle in grim silence – but otherwise the journey went smoothly. The babies in the back behaved relatively well thanks to a liberal supply of biscuits and the four hours went relatively quickly.
Lewa itself was breathtaking. The wonderful thing about being driven around by professional guides who know the area intimately, is that you actually get to see some game. Over the years we have had the privilege of driving ourselves in our own car around the Masai Mara, Serengeti, Tarangiri, Amboseli, etc. etc. etc. but have seen very few animals. On one hand we are pleased that, being expats, we can cut corners, pay residents rates and drive ourselves in relative air conditioned comfort to the various parks, however these factors have possibly been at the cost of: risking getting lost; spending hours on game drives commenting exclusively on birdlife and having to do repeated renditions of: 'If you're happy and you know it' and; 'I spy', in order to kill time and keep the children happy whilst gazing out into the game free bush.
Thanks to our guide Thomas last weekend we saw cheetah, rhino and lion …all close up! We got so close to lion that us passengers all got scared, especially when our one year old (my neice), two year old, five year old and seven year old failed to sense danger and insisted on bobbing up and down inside the open sided vehicle, even after Thomas had whispered:
'It's important that you stay seated.' (see photo below – no zoom lense required!)
We also did things in Lewa that I'd never dream of doing as the very idea of it sounds so crazy and foolhardy. We went on a riding safari 'in amongst the game' – I was convinced that we were about to surprise a hidden pride of lion in the long grass as we rode along. It was only after the first half hour of our ride that I realised the persistent low grunting sounds were emanating from old 'Blue', the horse I was riding who had a bad case of flatulence. Also, the horses kept stumbling on large stones hidden in the grass and to a novice like me just staying on provided enough excitement without any added danger. We got really close to a giraffe, some impala, a troop of baboons and a herd of zebra (Grevy). After that time my bottom was sore and I wanted to go home and having narrowly cheated death, rewrite my will.

We fed a rather large baby rhino and my husband went on a walking safari for hours. He was dropped off just where we had spent some time the day before admiring three young male lions, accompanied by a guide and a 'tracker' who was armed with a serious weapon. My husband said:
'You know, I recognise this particular bush. This is where we saw the lion yesterday' and the guide just said plainly; 'You're right, it is.'
My husband bonded with the tracker who evidently loved his job, tramping through the bush with his gun, a radio, a bottle of water and a lifetimes worth of knowledge:
'No matatus here!' they joked together in Swahili.
Personally, I must admit to being slightly obsessive about previous sightings of Prince William and Kate Middleton in Lewa, persistently quizzing bewildered guides and lodge staff who at the time were probably never aware of having British royals in their midst. I knew that the prince and his girlfriend had been frequent visitors over previous years and I wanted to know exactly where they had stayed etc. I also couldn't help noticing that it was not only our family who were peering quizzically inside all the other tourist carrying vehicles that passed by. Everybody was at it, having a good stare at one another. We were also lucky enough to spot Anna Merz, the lady who initially persuaded the Craig family to give over some 5000 acres to become a rhino sanctuary in the 1980s and funded the conservation project. Our driver said:
'You are lucky to see her; she lives in South Africa now and is rarely at Lewa these days.'
Indeed, a rare sighting we all agreed, whilst peering out of our car into the passenger seat of her Landrover.
Overall, we were all treated like royalty at Lewa and unanimously felt reluctant to leave. It was with a heavy heart that I was reunited with my own vehicle still safely parked at HQ to set off on the treacherous journey home. Back to the onslaught of traffic in Nairobi and far from the game filled plains with rolling hills behind. There's definitely more gossip to be had here in Karen, but it will never quite match up to the class of Lewa Downs. Lets hope that one day we get the chance to go back.